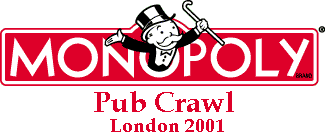 The world's biggest and most famous pub crawl. Here's how you do it.
Info For Potential Crawlers:
Time Needed For Crawl: Full Day, Monday to Saturday, 11am - 11pm
Crawl Difficulty: Hard
Best Crawled With: 2 - 20 people, Fast Drinkers.
Amount Of Travel Required: Initially quite a lot, then mainly walking.
Notes: You will need a zones 1-4 London Travelcard (currently £4.40), and plenty of money for drinks (around 40 quid should cover you unless you go mad!). You could bring money for a taxi but thats cheating. Drunk people may have trouble getting into a few of the pubs, so try and get them to act sober around the Regent Street/Mayfair areas. Above all, have fun, stay safe, and if you follow my guide here, please let me know how you get on - it's always good to find out who else can last the pace!
Monopoly Pub Crawl Pubs 1-9
Monopoly Pub Crawl Pubs 10-18
Monopoly Pub Crawl Pubs 19-26



This Page Was Last Updated On Thursday 8th August 2002 At 2330